Due to a lack of some...REAL articles lately I'm going to wrap up my week in two posts, the first focusing on how I've fared on the past week and things happening, then something a bit more generaly lolita related!
NEW STUFF
! I've been keeping it to myself but I ordered a new AP dress, Sweets Princess OP in pink. I saw this dress back in 2009, when I started taking buying and dressing lolita seriously instead of fawning passivly, but it was a paler pink. As done with a few other dresses Angelic pretty rereleased this style, though a slightly brighter pink. I was so taken by it I immediantly asked Japonica market to purchase it, now here I am and they just sent me a shipping invoice! I'm so excited, this will be the first brand piece I've ever owned that hasn't been second hand, I just wish shipping hadn't been an arm and a leg...
I also ordered and finally recieved a pair of SS shoes, replica wristcuffs and a new fantasy sheep wig which I'll post a mini review on later in the week!
Supanova
, the largest Queensland convention, was a blast. I got up at 7am to do my hair and makeup so I could catch the 8.30 bus to be there by 9.30 so I could get in in time for the Lolita fashion panel at 10.15. What a rush! I met a truly lovely lolita in line, a refresher since I'd been asked several times who I was cosplaying as and what my costume was. She looked just adorable! I wish I'd gotten a picture with her.
We walked together to the auditorium for the panel, it was briefer than I thought it would be. It was the first time I met any other Brisbane lolitas so I was a little nervous. We chatted a little but I kinda left them early to see some of the other people I knew would be there, they all looked absolutely stunning of course. There's a meet later on this weekend I'd like to attend as well!
Outfit rundown was my frill marine op, ebay wig, dear celine petti, bodyline socks, offbrand ADORABLE shoes and bag with a bow I bought from one day in paradise while I was there.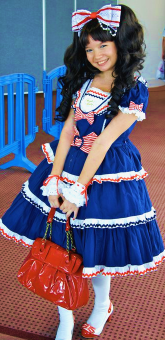 Anyways, I think that about covers everything! I have the last of my exams coming up and I am excited to relax, and vege out for the holidays. I hope everyone else is also having a good week!